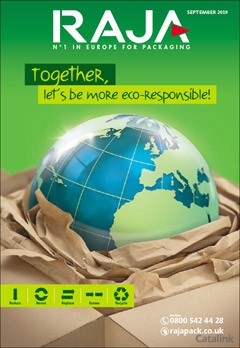 STORAGE & PACKAGING ESSENTIALS BY RAJA CATALOGUE
www.rajapack.co.uk
To order the Storage & Packaging Essentials By Raja Catalogue, simply click the Request button below.
Request Catalogue
Reusable Storage, Packaging Materials & Gift Boxes!
Raja is the No.1 in Europe for Packaging and storage. With over 4,000 items in stock and their constant search for new product innovations, their aim is to provide you with the widest choice of high quality packaging materials through their catalogue and website. Their huge range of packaging materials includes:
Cartons and cardboard boxes
Postal boxes, tubes and wraps
Custom printed packaging tape and bags
Padded bags, envelopes and mailers
Plastic bags, tubing and casing
Protective packaging and void fill
Tapes, adhesives and tying
Strapping and stapling
Labels and identification
Stretch films and palletising
Warehouse, storage and handling equipment
Facilities management
Office supplies
Retail and gift packaging
They also pride themselves on the service they provide to their customers:
Professional advice. Their expert team of packaging specialists are available to provide you with professional advice and guide you in selecting the right packaging for your business.
Product sample service. On many of their products they offer a sample service so that you can make sure a product meets your requirements before you buy.
They supply a range of made to measure and custom printed products – with Rajaprint's bespoke online customisation tool, you can customise packaging tape and bags in just a few clicks
NEXT day delivery. All orders received by 4.30pm will be delivered by 5.30pm the next working day. If your order is over £200 it will be delivered for FREE!
Secure on–line web ordering at their website
Save money by buying in bulk. With their bulk buying discounts you can save money by placing bigger orders on the products you use most frequently.
For large quantities of packaging or a quote on a large order: Speak to their customer development team or request a field sales visit.
Easy payment options. You can choose to pay by account with 30 days credit (subject to status) or by credit card or cheque.