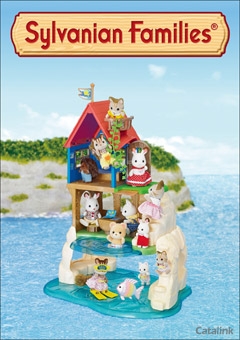 SYLVANIAN FAMILIES NEWSLETTER
To sign up to the Sylvanian Families Newsletter, simply click the Request Newsletter button below and you will receive amazing special offers, discounts and access to secret sales.
Request Newsletter
Start your Sylvanian Families collection




Loved around the world, cherished by children of all ages and boasting a growing world to explore, Sylvanian Families will give your young ones happy memories they'll value for life.

The beauty and variety of the figures, houses and accessories will let their imagination run wild – maybe even tempting you to get stuck in!

With classic characters, additional faces and exciting new environments, your kids will be able to craft a world that's entirely their own.

Let them learn about friendship, families, kindness and caring in a way that'll guarantee them endless fun.


Houses – craft the perfect home and choose from a large range of gorgeous models
Cars – get your family around in style with saloons, campers and caravans; and even throw in a picnic set or two
Family Trip – prepare your family for trips outdoors with beach sets, pedal bikes, ice cream trucks and much much more
Baby and child – teach your kids about relationships and family with their own adorable nursery sets
Food and shop – indulge in fish & chips and sweets or even set up a toy shop or supermarket
Furniture and accessories – customise your home and your family with kitchen and dinner party sets, tables, chairs, toys, garden accessories and everything in between
Professional – take ill Sylvanians for treatment at the local Country doctor Clinic or get a bad tooth removed by the local dentist
Ready to play – let them jump into the fun with quick sets that let playtime begin straight away
Toys and collectables for all
A stunning range of figures, covering everything from rabbit and corgi families to dalmatians and kangaroos, will let your child play with what suits them best.

The scenarios, environment, accessories and houses available will teach them about friends, family, jobs and creativity – inspiring them to experiment and explore.

And with flawless design and manufacture, you can always sit back and enjoy the view.

Enter the wonderful world of Sylvanian Families and give your children something special.

Order your Sylvanian Families catalogue now to view the full, sensational range.