THE ADVENTURE COMPANY WORLDWIDE ADVENTURES BROCHURE
If you want a more authentic travel experience, you've found the right brochure. We've 130 inspiring trips for you, including 20 new ones, from China to Zambia. Throughout all our adventures, the approach remains constant – you'll enjoy a real travel experience venturing off the well–trodden tourist trails to remote villages, secluded coastlines, far–flung ice caps and rugged peaks, meeting locals along the way. We'll open your mind to the world's fascinating cultures, wildlife and destinations.

I'm confident you'll love travelling with us – we're a friendly and experienced bunch, from our trip planners and Travel Consultants to local Group Leaders. We've been running these types of trip for over a decade so our adventures are tried and tested. We know our small groups offer a more intimate travel experience and our itineraries get you closer to the people and places you're visiting. Once you've had a taste you won't settle for anything else.

Enjoy the brochure and I hope you join us on an amazing adventure.
SORRY, THIS BROCHURE IS NO LONGER AVAILABLE THROUGH THIS WEBSITE.
The Visual History of The Adventure Company Worldwide Adventures Brochure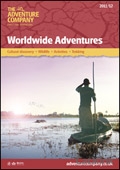 24 November, 2010
21 October, 2009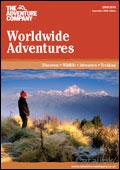 25 September, 2008
11 July, 2006