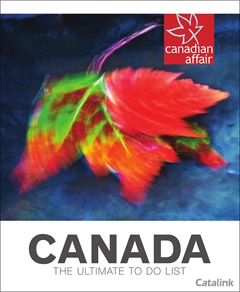 Canadian Affair – the ultimate holiday to–do list
Printed brochure currently out of stock - updated brochure pending.
Unsure what to do on your next holiday? This brochure will spoil you.
Whether you want to see a glacier from the sky, pit yourself against white–water rapids or just bask in the beauty of a secluded forest lodge, Canadian Affair's Ultimate To–Do List will give you a potential you won't find anywhere else.
Take to a country renowned for its beauty and diversity. From buzzing city–centres to picturesque mountain waterfalls, you can surround yourself with the perfect setting every time.
See alpine forests, sweeping prairies & gigantic glaciers
Stay active with exhilarating outdoor pursuits
Explore the aurora, scenic rides & cities
Flexible budgets & packages
Renowned operator for peace of mind
An enriching experience – whatever you do
Whether you want a holiday to relax on or one to get your heart racing, Canadian Affair gives you a list that boasts plenty of both.
See some of the world's most memorable sights. Order your Canadian Affair – Ultimate To–Do List brochure now.