TIME SAVING PRODUCTS & SOLUTIONS FROM TRISTAR NEWSLETTER
Award-winning solutions for life to your doorstep
From health and life changing products, fitness breakthroughs, unique age defying skincare, confidence boosting products and a series of time saving kitchen and cleaning products to simplify routine chores, the Tristar Products newsletter will revolutionise your everyday life.
Discover a range of kitchen and home products, from revolutionary toasting devices and power pressure cookers to incredibly powerful juicers and gourmet microwave pots. You can find so much to make your life that little bit easier!
Sign up for the latest in home, lifestyle and beauty breakthroughs
Kitchen & home solutions to help around the house
Health & beauty to make you look & feel fantastic
Cleaning products to make hard jobs easy
Fitness &amp. wellbeing items to keep you healthy
Their fitness and well-being products are designed to help you keep and stay fit in the easiest way possible. Don't wait any longer, find products to help you fly through those boring day to day tasks with Tristar Products.
Sign up for the latest products, sales, offers and updates from Tristar Products!
SORRY, THIS NEWSLETTER IS NO LONGER AVAILABLE
Front Cover Images of Time Saving Products & Solutions from Tristar Newsletter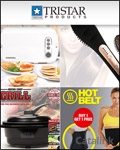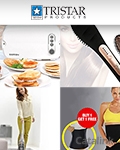 VIEW ARCHIVED NEWSLETTERS