TITAN TRAVEL: EARLY BOOKING BONANZA BROCHURE
One of Titan's long standing principles is to offer early bookers the best holiday prices, and this Early Booking Bonanza brochure is a special preview of our superlative range of tours and cruise in 2014 and 2015.

This brochure gives you the pick of the departure dates and maximum early booking discounts ranging from £50 to an amazing £500 per person, guaranteeing the best holiday prices. These are genuine savings on prices anticipated to appear in July's Worldwide brochure and therefore available only on bookings made by 30 June 2014.

Request a brochure for details of a host of unforgettable escorted tours, iconic rail journeys and captivating cruises. Whatever your dream destination or travel interest, you're sure to find your perfect journey of discovery in this magnificent collection of worldwide holidays.
SORRY, THIS BROCHURE IS NO LONGER AVAILABLE THROUGH THIS WEBSITE.
The Visual History of Titan Travel: Early Booking Bonanza Brochure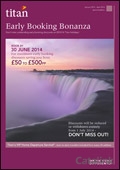 13 June, 2014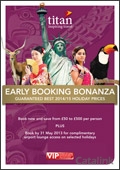 25 April, 2013