TITAN TRAVEL: SAGA CRUISING BROCHURE
If you want to experience the true glamour, variety and excitement of a comprehensive cruising holiday, Saga Cruising will mesmerise you with their tantalising selection of indulgent cruises and extravagant ships. Whether you're a seasoned sailor or new to the cruising experience, you'll find yourself transported to a journey of a lifetime where you can enjoy the freedom, variety and captivating atmosphere of a first–class holiday on the move.

Thanks to extensive experience within the industry and their thorough itinerary development, Saga Cruising boast an astounding array of varied destinations and routes across the world. With expeditions which vary from charming UK and European routes to extensive Caribbean, Mediterranean and Russian trips, whatever your location preference, their brochure will have it covered.

Aside from the tantalising breadth of their destination list, the luxury and variety of the ships themselves is sure to entice even the most discerning travellers. The Saga Ruby offers an elegant and romantic atmosphere and features extensive facilities which include a spa, ballroom, theatre and several bars and restaurants. The timeless Saga Sapphire incorporates classic traditional elements with contemporary twists. Enjoy the informal indulgence of the Grill and Verandah dining setting or explore the many pleasures of the onboard Beach Club.

Why not experience the thrill of modern cruising but with an added element adventure and exploration? Their adventure cruises have been meticulously researched to ensure that the varied itinerary takes you from one fascinating attraction to another. The Quest for Adventure can reach smaller, more intimate ports and the colourful guest speakers will guide you seamlessly through the wonder and intrigue of the ancient world.

With so much to choose from order your Saga Cruising brochure now and prepare to set off on a magical journey of a lifetime.
SORRY, THIS BROCHURE IS NO LONGER AVAILABLE THROUGH THIS WEBSITE.
The Visual History of Titan Travel: Saga Cruising Brochure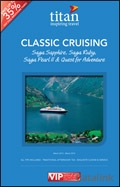 09 August, 2013