TITAN XMAS & NEW YEAR BROCHURE
Magical winter holidays during Christmas & New Year



Regardless of whether you want to mark a special occasion, enjoy the festivities or just celebrate the New Year, there are few getaways that beat the enchantment of a magical winter holiday. Titan have painstakingly crafted an alluring range of seasonal packages which will guarantee you enjoy the very best trips, destinations and events the winter season has to offer.

Although few things can compare to the novelty and excitement of spending Christmas abroad, there is no reason why spending a winter holiday in the UK shouldn't always be a new and captivating experience.

Browse magical Christmas destinations such as Scotland's breathtaking countryside and vibrant cities, Durham's rich heritage or Kent's picturesque scenery. The packages are all designed to give you a taste of the flair, excitement and good cheer of each particular location – ensuring you experience new and wonderful ways to spend and celebrate Christmas.

If you want to start off the New Year in style, whether with friends, family or a loved one, Titan's expertise will inspire you to try something different. Why not indulge yourself in the wintry magic of New York and experience its enchanting atmosphere whilst staying within walking distance of the vibrant Times Square?

Let Titan make your Christmas and New Year that little bit more special this year and order your Titan Christmas and New Year brochure now.

SORRY, THIS BROCHURE IS NO LONGER AVAILABLE THROUGH THIS WEBSITE.
The Visual History of Titan Xmas & New Year Brochure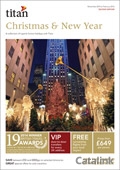 01 July, 2015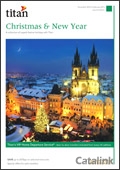 09 July, 2014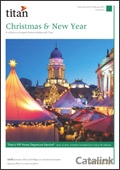 13 June, 2014
12 August, 2013