TRACKS N TRIPS BROCHURE
Tracks n Trips offers guided walking holidays in Andalucia, Southern Spain, Mallorca, the largest of the Ballearic islands and Tuscany, Northern Italy. Walks in Mallorca, Spain and Italy offer opportunities for leisurely mountain and coastal walks, where you will explore the flora and fauna and culture of the areas.

Our walking holiday in Tuscany is based in a family–run hotel where we have half board and wonderful home cooking with anti–pasta, pasta, main course and desert. Walking holidays in Andalucia are based in traditional village houses or a small hotel and you can sample wonderful Andalucian cuisine in one of the many restaurants in the village.

The walking holiday in Mallorca is a two centre holiday staying four nights in a family–run hotel in the coastal resort of Puerto de Soller on the North west coast of Majorca and staying three nights at the monastery at Lluc. We eat in the fabulous refectory at the monastery.

All of our holidays offer guided walks, lead by professional guides with experience and knowledge of the area, whether you choose walking in Mallorca, Andalucia, Romania or Tuscany.

There will be chance to include a cultural visit in your holiday programme. On our walking holiday in Tuscany you can visit both Florence and the medieval walled town of Lucca. On our Andalusian walking holiday you can choose a visit to Granada. If you choose our walking holiday on Mallorca you can visit Deia, Valdemosa or Palma and our Transylvanian holiday includes a visit to the famous "Dracula's castle" at Bran and the beautiful medieval town of Brasov.

For groups, we will customise your guided walking holiday anywhere in the UK (Shropshire, Yorkshire Dales, Pembrokeshire, Lake District, Wales, Devon, Cotswolds). We can arrange any type of accommodation, leaders and meal package. We are suppliers to Spice, Activity Group (see our Spice page). We can also customise group holidays in Mallorca, Tuscany Romania, New Zealand and Andalucia.

Customised trips to Nepal to trek in the Annapurna or Everest regions can be organised in conjunction with our partner organisation in Nepal and our expedition leader Kuman. Minimum 2 persons.

We have a programme of activities, breaks and holidays for single parents and their children.

Our walks are generally aimed at people with a moderate level of fitness and are graded

Easy – walking 4–5 hours, around 6–8 miles with less than 1000 ft of ascent.
Moderate – walking 5–7 hours, around 7–10 miles, with up to 3,000 ft of ascent.
Strenuous – walking 7 hours+, 8+ miles, with up to 5,000 ft of ascent.

Most of our current breaks and holidays fit into the easy or moderate category.

We operate a philosophy of responsible tourism. We stay in privately–owned and run hotels, eat in local family–run restaurants, buy provisions locally, use local public and private transport and ensure that our walks are sensitive to the environment.

You can book your holiday with flight included and we will try to arrange flights from your preferred regional airport. If you prefer you can arrange your own flight and if you can meet up with our transfer arrangements we will include the transfers. Budget airlines fly to all the relevant airports for our overseas trips other than Romania.

All leaders have first aid certificates and are experienced navigators and leaders. They always carry a first aid kit and mobile phone so you'll be in safe hands.
SORRY, THIS BROCHURE IS NO LONGER AVAILABLE THROUGH THIS WEBSITE.
The Visual History of Tracks n Trips Brochure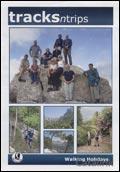 09 February, 2005