TREK AMERICA: TOURS FOR 18-38 YEAR OLDS BROCHURE
As North America's leading small group adventure specialist, and recently voted 'Best Tour Operator to the USA' at the British Travel awards, they will introduce you to the wonders of this great continent as only they know how, with 50 unique itineraries from 3 day mini–adventures to epic cross–country road trips.
Their tours are specifically designed for young, international travellers aged 18–38, so you're guaranteed to be travelling with like–minded people of your own age. Private transportation and a maximum group size of just 13 people, ensure their customers enjoy all the benefits of independent travel, with undoubtedly the most diverse and fun groups in the business.
Through their sister company Grand American Adventures, click here to view their brochure, they offer a wide range of camping, lodging, walking and family adventures for active people of all ages, throughout North, Central and South America.
Check out what their passengers have to say…
If you're still wondering what's so special about travelling Trek Style, then nobody expresses it better than their passengers, so read on!
This trek has been a unique, unforgettable experience from beginning to end. We had no idea what to expect but couldn't have asked for more from either the trip itself or our guide. Clare and Jessica, UK
Travelling like this is definitely the cheapest way to make the most of the time and see everything. I would definitely recommend TrekAmerica to other travellers and I can't wait to do another Trek myself! Vicki, UK
I had an amazing time, one of the best holidays I have had for a long time. Thanks to all of the TrekAmerica team for organising my trip and for the tour leader on the trip, you guys are the greatest!!! Anthony, UK
The trek was so much fun and I would recommend it to anyone– everything from the people you are with, to sitting around a fire at night, generally being silly on trek, and of course seeing all the amazing places. Joanna, UK
SORRY, THIS BROCHURE IS NO LONGER AVAILABLE THROUGH THIS WEBSITE.
The Visual History of Trek America: Tours for 18-38 year olds Brochure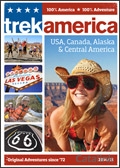 10 January, 2014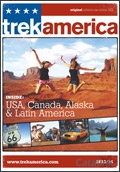 18 September, 2012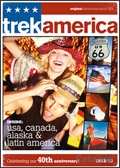 21 November, 2011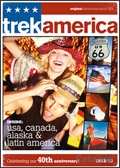 21 November, 2011