UNDER THE TOP NEWSLETTER
Back and Posture Support Underwear


Under The Top gives you a range of underwear and shapewear to support your back and bust.

Super smooth and supportive shape wear to make you look and feel good.

Vintage and retro style shapewear designed using modern fabrics and production methods to give the best and firmest control, in stylish vintage designs.
Positive support – support your bust and back, improve your posture and eliminate back pain
Smooth control – all–in–ones, hi waisted thigh slimmers and wear your own bra bodies to give a totally smooth look.
Mother of the Bride – underwear and shape wear designed specifically to make you look your best at that special occasion.
Vintage and Retro – "Not you grandmother's girdle", traditional vintage and retro styles redesigned in modern fabrics using state of the art production methods, to give the best support and comfort
Sign up to the Under the Top eNewsletter now for tips, news, advice and offers.
SORRY, THIS NEWSLETTER IS NO LONGER AVAILABLE THROUGH THIS WEBSITE.
The Visual History of Under the Top Newsletter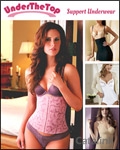 06 May, 2014