UNIVERSAL TEXTILES NEWSLETTER
Clothing for the whole family, great gifts & homewares!
Universal Textiles brings you quality clothing, homeware, gifts and more from top brands including Regatta, Trespass, Yumi, CAT and Fruit Of The Loom - sign up to their newsletter today to explore all they have to offer!
Their expertise and extensive range covers clothing for men, women and kids to ensure that the whole family is kitted out for every occasion.
Explore everything from men's summer t-shirts, winter thermals and swimwear to women's dresses, spring playsuits and more. Whatever the occasion, whatever your need, you can find it here.
With a great selection of homewares, you can find the perfect trinkets for your home when you sign up to their newsletter today. Shop bedding, bathroom accessories, bedroom rugs and more with Universal Textiles.
Discover all your favourite brands in one place - from Trespass, Regatta and Yumi to Slazenger, Disney and many more!
Sign up to the Universal Textiles newsletter today to receive 10% off your first order and explore their great range of products!
SORRY, THIS NEWSLETTER IS NO LONGER AVAILABLE THROUGH THIS WEBSITE.
The Visual History of Universal Textiles Newsletter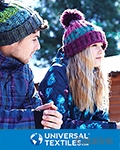 08 November, 2016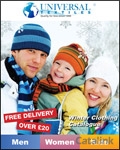 14 January, 2014