UTTERLY HORSES CATALOGUE
Whether you're an avid collector or a casual admirer, if you love all things horses, Utterly Horses will captivate you with their spectacular collection of equestrian–themed models, props, paint kits and partyware. Including exclusive models, rare kits and with products for adults and children alike, their high–quality range will leave you spoilt for choice.

If you're new to the magical world of models, Utterly Horses feature a wide array of quality brands to choose from including popular names such as Breyer Horses, Safari, Schleich and CollectA. Many of these models are ideal for both young children and new collectors due to their solid durability and varying scale size. Look out for GeeGee horses which feature life–like brushable mains and tails as well as a host of extra accessories – perfect for creating your very own personalised model!

With many models being carefully hand–painted, you can be assured that a high level of quality, resemblance and detail is guaranteed. Why not further your collection with Utterly Horses' breathtaking selection of accessories and props? Give your horse a home with a charming set of both plastic and wooden stables. Or ensure that your horses only travel in style and treat them to a classic truck and trailer for when they go to the races.

Their catalogue also features a 'collector's corner' section, for information and listings on hard–to–find items and specialist models. The range incorporates vintage second–hand horses, custom models by UK artists, products no longer in production and exclusive UH Special Runs. Whatever you're in the market for, Utterly Horses' expertise and knowledge is sure not to let you down.

In addition to their sprawling collection of models and accessories Utterly Horses also feature hobby kits and partyware – so you can celebrate your love of horses no matter the occasion. Choose from a list of products which include horse–themed baking materials, tableware, decorations and party activities. For the artists amongst you, their gift sets and hobby kits will keep you enthralled for hours as you strive to craft the perfect horse.

So whether to celebrate your love of horses or to further a life–long passion, order your Utterly Horses catalogue now and immerse yourself in astounding knowledge and expertise.
SORRY, THIS CATALOGUE IS NO LONGER AVAILABLE THROUGH THIS WEBSITE.
The Visual History of Utterly Horses Catalogue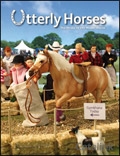 22 July, 2013