VARIETY CHRISTMAS SAVINGS CLUB CATALOGUE
EARN EXTRA MONEY WITH VARIETY By starting your own GIFT VOUCHER CHRISTMAS SAVINGS CLUB AGENCY

Saving for a debt–free Christmas has never been easier…just think, no big credit card bills looming in January…no interest to pay…just Christmas paid for in advance…PLUS you earn commission by helping your family and friends to save for a perfect Christmas 2011…just look what we offer:–
The BIGGEST and BEST selection of gift vouchers and gift cards covering 15 of the major high street shops, department stores and SUPERMARKETS
Earn the BEST COMMISSION to help pay for your own Christmas
Up to 44 weeks to save
Customers' savings 'ring fenced' in a Government initiated 'Trust' account
Easy to run…we supply everything you need…ABSOLUTELY FREE
Manage your account from home…online or by post
Our big name gift vouchers and gift cards offer 100% value for money and they are redeemable at over 20,000 outlets…some of which are exclusive to Variety, like NEXT and GAME! PLUS, because we concentrate purely on gift vouchers and gift cards, we are the only Christmas Savings Club to offer you FOUR of the biggest supermarkets… Asda, Morrisons, Sainsbury's and Iceland…your complete Christmas taken care of!

For over 30 years, thousands of existing Agents and their customers have TRUSTED and DEPENDED on Variety Christmas Club to help them plan and save for their happy family Christmases. So why not join them?
For your FREE Agents Quick Start pack including your easy 3 step guide to start your Agency straight away, visit our web site!

SORRY, THIS CATALOGUE IS NO LONGER AVAILABLE THROUGH THIS WEBSITE.
The Visual History of Variety Christmas Savings Club Catalogue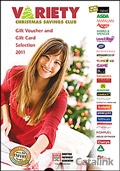 19 November, 2010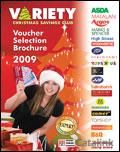 30 October, 2008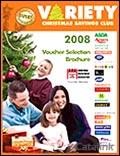 28 September, 2007