VINTAGE ROOTS CATALOGUE
We look at our business after 20 years and we're proud that it is in the best shape ever. We have a superb win portfolio; a diverse spectrum of enthusiastic customers; fantastic, inspirational suppliers; and a committed, talented and loyal team of employees. It still sends a shiver of excitement down our backbones!

We were not businessmen or wine experts when we started back in 1986, but we had a yearning to create something for ourselves, and put our energy into something we really believed in. Passion for organic quality and a determination to succeed kept us going through the highs and lows of the early years. In fact some of the most memorable times are from those early days – the three–day drives to the Loire and Bordeaux to collect our first fan loads of wines, camping out in the vineyards, the early morning 'wake up' coffees in the cafes, the wild goose chases looking for vineyards, and hospitality and solidarity shown from both growers and customers.
SORRY, THIS CATALOGUE IS NO LONGER AVAILABLE THROUGH THIS WEBSITE.
The Visual History of Vintage Roots Catalogue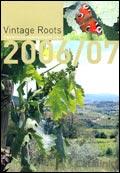 17 November, 2006