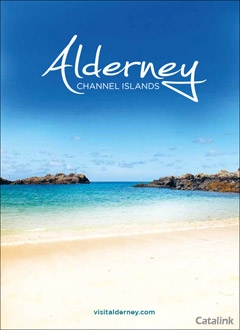 VISIT ALDERNEY 2020 BROCHURE
To order the Visit Alderney 2020 Brochure, simply click the Request button below.
Request Brochure
So different, so close
Discover the tiny island of Alderney, a few miles from England and just off the Normandy coast, where you'll find everything that makes the perfect holiday.
Alderney has natural beauty, an absorbing history combined with delightful indulgence. Whether you enjoy gentle walks or energetic pursuits such as cycling, fishing or sailing, it's the perfect blend – and the perfect balance, offering an original experience that simply can't be found elsewhere.
Alderney's fascinating history is written in its landscape and architecture; from the Stone Age through to the Romans and with military importance in recent centuries reflected in its many Victorian forts and fortifications dating from the Occupation during World War II.
The atmosphere is reassuringly familiar, yet distinctively different. There's no language barrier, no currency to exchange and no problem finding your way around. At the same time, the island has an unmistakably French feel, giving you the chance to sample the unique culture and lifestyle of a Channel island.
Reaching Alderney couldn't be easier. The flight from Southampton or Guernsey is less than an hour long and with no lengthy queues on arrival you'll be immediately eased into island life.
The more you put into your time here, the more you'll get out of it. If you love to explore, experiment and discover, the rewards are rich and varied. Visit Alderney and be free to enjoy the holiday that you want. So close, so different.