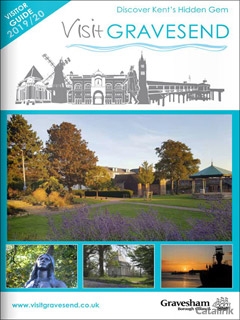 Tweet
Follow VISIT GRAVESEND on Twitter
Visit Gravesend
- 1 day ago
🚂 Go along to the grounds of Cascades Leisure Centre today until 5pm for miniature train rides with
#Gravesend
Mode https://t.co/CI6P1mE0Ah
Visit Gravesend
- 1 day ago
RT
@ExploreKent
: Explore the England Coast Path around Sheppey: stop at Barton's Point Coastal Park for pitch & Putt ⛳, the adventure playg
Visit Gravesend
- 1 day ago
Owletts in
#Cobham
is open today until 5pm 🌳 It was built in 1683. In 1862 the renowned architect Sir https://t.co/zWBJTa5hUN
Visit Gravesend
- 1 day ago
#Gravesend
Riverside Leisure Area looking magnificent on the last
#Sunday
of June ☀️ Take a leisurely walk to see https://t.co/7yejhFau3D
Visit Gravesend
- 1 day ago
RT
@GravesendCC1880
: Starting July 1st Open to Women and girls - FREE introduction to cricket - with special guest coaches https://t.co/3f6
VISIT GRAVESEND BROCHURE
To order the Visit Gravesend Brochure, simply click the Request button below.
Request Brochure
Discover Kent's hidden gem
Famously described by Dickens as 'the fairest spot in the Garden of England', Gravesend has persistently delighted visitors of all kinds for centuries.
You'll find a landscape brimming with ancient woodland and country parks, towns as contemporary and culturally diverse as they are packed with unique heritage and local tradition.
And with a full list of events and activities to challenge, excite and relax you however you choose, Gravesend will keep you entertained from the very start until the very end of each visit you make.
Enjoy the country – take to the hills, the rivers or the woods on foot, horseback or bike and see an exceptional Area of Outstanding Natural Beauty
Explore the towns – local villages such as Cobham and Higham treat you to a welcoming rural atmosphere of charming pubs, markets and boutique shops
Experience the heritage – steeped in maritime history and local tradition, the area boasts many a historical treat as well as a thriving modern culture
See something different – explore local treasures such as Pocahontas' resting place, riverside markets and an ongoing list of family attractions
Indulge yourself – whether for a day, a weekend or a week, you can always treat yourself to homely accommodation, gourmet food and quality entertainment
Heritage, culture and family fun
Whatever you look for in a holiday, you can find it at Gravesend. Each location is proudly diverse in the attractions it offers.
Whether you want a romantic afternoon exploring woodland walks and rosy gardens or a fun–filled weekend with the kids, Gravesend will treat you to a UK visit like no other.
Go see what all the fuss is about. Get started and request your Gravesend Newsletter now.