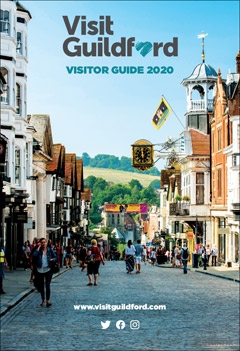 Visit Guildford in the heart of Surrey and explore the whole of the South East
The vibrant market town of Guildford is nestled in the Surrey Hills Area of Outstanding Natural Beauty and offers everything you would wish for in a shopping experience. At the same time you can explore the rich heritage and exciting arts and cultural events. This mix of idyllic countryside, attractions and shops means the perfect visit is never far away.
Treat yourself, friends or loved ones to a wander through England's most wooded county, exploring the cultural diversity on offer.
Discover a British destination that boasts something different at every turn. Find out why millions of visitors come back year after year – and make sure you become one of them.
A unique town – whether it's the landscape, the people or the opportunities, you'll experience something special
Stay outside – explore the winding paths, trickling streams and local wildlife on foot or by bike
Be sporty – whether to watch or to get stuck in, Guildford let's you be as active as you want
Heritage and culture – visit sprawling gardens and grand houses, immerse yourself in an art gallery or lose yourself in cobbled town centres
Experience – a typically English picnic whilst watching quality drama in stunning parks and gardens
Indulge – spoil yourself with some luxuries – premium spas, gourmet dining, boutique hotels and more
Let yourself be entertained – whatever it is you like. Museums and galleries, both traditional or contemporary, will leave your cultured side inspired. And as there's always an inviting pub, café or restaurant around the corner, you're never far from a treat.
Take advantage of a range of musical, theatrical and traditional events that are guaranteed to keep your evenings busy.
Just 30 minutes from London, there's no excuse not to spend an afternoon, a day or a week enjoying the treats of Guildford in the heart of Surrey.
Discover the delights that already await – request your Visit Guildford digital brochure now.