VISITGUERNSEY WALKING E-BROCHURE
Are you and your partner keen walkers?...Would walking and exploring 28.5 miles of spectacular cliff top paths, plus numerous bays, rural lanes and common be your idea of a great holiday?...Never been to the Channel Island of Guernsey?

There's so much to see, you never know what you're going to discover next.
From strolls on golden sands before a seafood lunch to mapped routes exploring ancient forts and wild coastline - if it's those simple pleasures you're looking for, you'll find them here. And they all come with a liberal sprinkling of French influence and a slice of Guernsey charm.

This is a place of beachside kiosks and fresh, home-grown produce, a place where the tiny hamlets, coves and commons provide an enormous treat for walkers and the abundance and variety of our floral heritage will inspire you.
It�s a truly special place, one guaranteed to leave a lasting impression. It's how holidays used to be. We think it's how holidays should always be.

Nestled cosily in the bay of St Malo and just 70 miles from mainland Britain, the Channel Island of Guernsey offers a unique environment where French and British influences meet, where you'll order your meals in English and pay for them in sterling, and where inspiring cliff walks and gentle strolls on golden sands are never far away.

And everything about visiting Guernsey is easy. You can fly here from 9 UK airports in as little as 30 minutes. Fast ferries make the crossing from Poole and Weymouth in around two and a half hours and a traditional ferry sails from Portsmouth. It doesn�t take long to get here, but once you are, you'll feel a long way from home.

And the great thing is that because of the island's size, you don�t have to drive for miles to experience all it has to offer. Visit the website via the link below or view our walking e-brochure to find out more.


SORRY, THIS IS NO LONGER AVAILABLE
Front Cover Images of VisitGuernsey Walking E-Brochure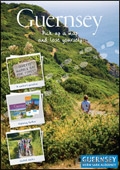 VIEW ARCHIVED S