DISNEY MAGIC GUIDE
Plan your magic the easy way

It's the most magical holiday destination in the world. Walt Disney World Resort in Florida has so much to see and enjoy, planning your holiday can feel a bit daunting. But don't worry.

Mickey and his friends have split everything up into chapters, giving you all you'll need to start your holiday magic right here:
Get your bearings with Mickey's maps
Pick the right Ticket and Hotel for you with Minnie and Donald
Tease your tastebuds as you discover Dining with Goofy
Bound through booking with Pluto
Fly around Florida with Tinkerbell

And to help make planning and booking fun and easy, you'll find a handy checklist and pull out sections included inside. Everything to make sure your holiday story has a really magical ending.

SORRY, THIS BROCHURE IS NO LONGER AVAILABLE THROUGH THIS WEBSITE.
The Visual History of Walt Disney Little Big Book of Magic Guide Book Brochure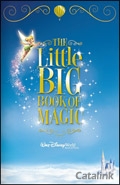 07 December, 2012