WEASDALE NURSERIES CATALOGUE
Weasdale Nurseries were started in 1950, located at the northern edge of the Howgill Fells of Cumbria at 850 feet (260m) elevation. It is one of the highest establishments of its kind in the country, far removed from the typical nursery on rich lowland soils, and for those who are willing to pay a little more for something out of the ordinary they are able to offer uniquely hardy, tough and slow grown Trees and Shrubs, which can be planted in any part of the country with maximum success.

Servicing customers throughout EC Europe, our open–ground grown plants are carefully packed and shipped to our customers during the period of winter dormancy, from early November until mid–late April, ready for planting in their new surroundings.

Over the decades, our unique packaging techniques, the materials used and our delivery methods have evolved to ensure that:
Your plants will not dry out in transit
Your plants will not be broken or damaged in transit
Your plants will not overheat in transit
Everything is recyclable
All the plants will unpack as fresh as the day that they were lifted from the nursery.


Request a catalogue today to see the full range of trees and shrubs on offer!




SORRY, THIS CATALOGUE IS NO LONGER AVAILABLE THROUGH THIS WEBSITE.
The Visual History of Weasdale Nurseries Catalogue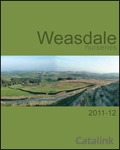 28 November, 2011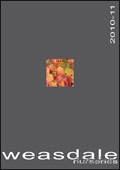 11 October, 2010