WEIRD & WONDERFUL PLANT COMPANY CATALOGUE
Weird & Wonderful Plant Company – Specialist suppliers of rare and unusual hardy garden plants.

We are a small nursery based in Scotland, in the county of East Lothian, an area well known for its rich red soils and sunny maritime climate. We are now into our fourth season here at Fenton Barns. We offer an ever growing range of exciting weird and wonderful garden plants, all supplied with care and planting instructions.

We offer plants with fascinating histories (some grown since medieval times), Victorian curiosities, gothic black flowers, dark foliage, variegated foliage, mutated foliage, wildflowers and ancient medicinal herbs. In particular, we specialise in Aquilegia, Viola, grasses, and herbaceous perennials. We also offer a small selection of species shrubs, and trees. Our aim, as always, is to be as different from other garden centres and nurseries as possible, and so offer something unusual for the discriminating plant lover. If a plant is not weird, it must be wonderful. Most of our varieties are one or the other, and frequently both! All propagation at the nursery is done by hand; sometimes, only a few seeds germinate or we have limited numbers of stock plants to divide. Some varieties are available only in small quantities and may sell out quite quickly. When ordering please bear in mind that availability may be limited, so don't wait too long!!
SORRY, THIS CATALOGUE IS NO LONGER AVAILABLE THROUGH THIS WEBSITE.
The Visual History of Weird & Wonderful Plant Company Catalogue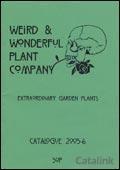 11 April, 2005