WELCOME TO GIBRALTAR BROCHURE
Situated in the heart of Mediterranean Europe, Gibraltar is enriched with history and natural wildlife. – A sterling currency adds convenience for shopping enthusiasts enticed by the Rock's V.A.T free status. Stunning scenery increases its popularity with brides to be, while a variety of water–based activities widens its appeal as the perfect short break.

Gibraltar has attracted visitors for centuries. There can be few places in the world that equal the Rock in terms of sheer physical presence. Gibraltar is situated in a unique strategic location on the southern tip of the Iberian Peninsula, overlooking the Strait of Gibraltar and linked to the Spanish mainland by a narrow isthmus. Despite an imposing appearance Gibraltar is small, measuring less than six square kilometres in total. Its precipitous rock and cliffs stretch skywards some 426 metres. This is the only place in Europe where monkeys range free in a semi–wild state, reflecting the Rock's rich natural history which flourishes in a sub–tropical climate.

Today Gibraltar is also a stimulating world centre of business and commerce – Gibraltar is a perfect base to explore the surrounding cultures, countries and continents.

Enjoy a day trip to the ancient town of Seville famous for flamenco dancing, or discover the home of sherry – Jerez. A short ferry ride across the Strait lies Morocco and the exotic town of Tangier. There are several golf courses within a short drive of the Rock including the world famous Valderrama.

We invite you to discover the essence of Gibraltar for yourself!
SORRY, THIS BROCHURE IS NO LONGER AVAILABLE THROUGH THIS WEBSITE.
The Visual History of Welcome to Gibraltar Brochure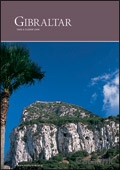 24 December, 2010