WENDY WU RIVER CRUISES BROCHURE
Spectacular River Cruising through Asia
Leading Asia specialist Wendy Wu Tours, pride themselves on their vast experience and deep understanding of operating tours throughout this vast region. Since 1998, they have sent tens of thousands of adventurous and satisfied travellers to some of the most fascinating, exhilarating and fast-changing destinations on the planet.
Why River Cruising?
River cruising has always been popular, for both group and independent travellers alike, giving you the opportunity to see Asia's incredible destinations from a deeper and different perspective from the comfort of your cruise boat.
Where do they visit?
Whether you're wanting to travel through Burma's Chindwin, China's Yangtze, India's Brahmaputra or the Mekong in Laos and China's Yunnan Province there are a number of once-in-a-lifetime tours on offer.
Great tours, great value
Wendy Wu Tours believe that every aspect of your holiday experience should be exception, including the price. Therefore, the price you see includes almost everything, from your flights, meals, accommodation, touring and even your visa - meaning that you can concentrate on what's important - simply enjoying your holiday.
Customer care is top of their agenda and their fully inclusive service allows for real peace of mind. Make use of their visa service, enjoy a simplified tipping system and get prepared with the help of their detailed travel guide. Their National Escorts and Local Guides constantly receive outstanding customer feedback and they pride themselves on high levels of customer satisfaction and personal recommendations. Your holiday with them is financially safe and secure as they are members of ABTA and hold ATOL and IATA licenses.
Order or view online the 2016 Wendy Wu River Cruising brochure now for a holiday to Asia the like of which you've never known.
SORRY, THIS BROCHURE IS NO LONGER AVAILABLE THROUGH THIS WEBSITE.
The Visual History of Wendy Wu River Cruises Brochure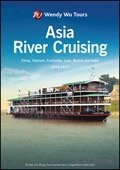 10 March, 2016