WHEELS IN FRANCE BROCHURE
Family Cycling Holidays in the heart of France! At Wheels in France we love cycling and there is no better way to see France than on two wheels. We specialise in offering fully supported cycling holidays in France's Poitou–Charentes Region to suit the whole family. We are convinced the greatest way to experience the French countryside is on a bicycle based tour. You have the freedom to stop whenever or wherever you choose for as long as you wish. On a Wheels in France tour you can explore some of the most spectacular countryside in France and visit some of the grandest châteaux. You can ride on country roads, tranquil lanes, tracks and tow paths, embrace the character of the region and sample French country life. You can relax in beautiful gardens and parklands or stroll around a busy market in a picturesque village. The Atlantic coast is a perfect place to sample some of the delicious seafood that France is so famous for or just stop and watch the oyster fishermen. The climate is mild. In the summer months you can expect your days to be filled with sunshine. Evenings are warm. It does rain but not often enough to get in the way of your biking journey of discovery. You will stay in carefully selected hotels and sample the finest French food and wine. In fact, from the moment you arrive, the staff at Wheels in France will ensure you have the most enjoyable, relaxing, hassle–free holiday.
SORRY, THIS BROCHURE IS NO LONGER AVAILABLE THROUGH THIS WEBSITE.
The Visual History of Wheels in France Brochure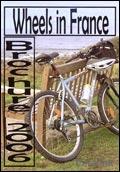 07 February, 2006