WILTSHIRE FARM FOODS CATALOGUE
Nutritious meals, great value and peace of mind


A choice of over 300 meals, all with free delivery to your freezer

With such a wide variety of meals, whether you're looking for traditional dishes like cottage pie or something a little different like lemon and ginger chicken, we're sure you'll find a selection of dishes to suit.

Delivery, come rain or shine

Whatever the weather, they deliver every meal direct to your door in compact trays that fit straight in the freezer. A driver can even place your meals in the freezer for you; it's all part of the friendly service.

Nutritionally balanced meals. No Fuss

It's not just about going the extra mile delivering their meals, their chefs are committed to creating exciting, nutritionally balanced meals that you'll look forward to eating. Because everything they deliver can be cooked straight from the freezer, you are always assured a tasty, piping hot meal in minutes.

Order your Wiltshire Farm Foods catalogue now for prices, plans and delicious meals.

SORRY, THIS CATALOGUE IS NO LONGER AVAILABLE THROUGH THIS WEBSITE.
The Visual History of Wiltshire Farm Foods Catalogue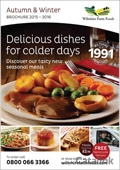 03 September, 2015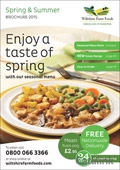 10 July, 2015