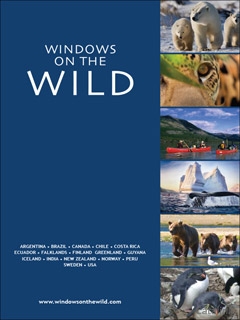 Tweet
Follow WINDOWS ON THE WILD - ADVENTURE HOLIDAYS on Twitter
WindowsOnTheWild
- 1 month ago
We are delighted to announce Windows On The Wild has been nominated for Best Tour Operator in the 2022 Wanderlust R https://t.co/pkG7AVNtXb
WindowsOnTheWild
- 1 month ago
RT
@ngadventure
: While leading a guided tour in the Canadian Arctic this adventurer had an unusual encounter with a curious arctic fox. htt
WindowsOnTheWild
- 2 months ago
Tomorrow is the 5th Anniversary of
#WorldGorillaDay
See them in their natural environment to understand the conser https://t.co/641OBNkROL
WindowsOnTheWild
- 4 months ago
TOP 8 Reasons to Visit British Columbia in 2022 https://t.co/wVjW6KrZE6 https://t.co/yhHvhfFmxY
WindowsOnTheWild
- 9 months ago
AlUla, Arabia's best kept secret -❤️💻Explore Hegra, a UNESCO World Heritage Site, walk the ancient streets of AlUla https://t.co/aaizC5ImAn
WINDOWS ON THE WILD - ADVENTURE HOLIDAYS BROCHURE
Newsletter not currently available!
Wildlife & Soft Adventure Holidays
Windows on the Wild invites you to adventure and wildlife tours to unique locations. Sign up for the newsletter today to start your journey here!
Get in touch with nature with the wonderful collection of safari tours in South Africa, self-drive adventures in Botswana and Escorted tours in Zambia where you can see the breathtaking Victoria Falls!
Explore Canada for stunning natural beauty, Alberta is home to some of Canada's most renowned images, visit Banff and get inspired by the views of the Jasper National Park!
The opportunities are endless with Windows on the Wild, pick from:
Dog sledding
Rafting and canoeing
Whale expeditions
Wildlife viewing and fly drives
Horseriding and trekking
Cruises and tours
and much more!
Take a friend to Easter Island and snorkel in the shadow of the mysterious Moai statues, it will take your breath away! If you're a keen cyclist getaway to Canada and take on the Moonraker trails where you'll be treated to incredible views of the rocky mountains.
Sign up for the Windows on the Wild Newsletter today for the latest news and offers on holiday adventures!