WINTER SUN COLLECTION BROCHURE
Style Holidays introduces Winter Sun Collection.

Style Holidays features some of the finest facilities & accommodation for your next winter holiday.

Quality hotels, villas & apartments in the Algarve, Madeira, Lanzarote, Tenerife, Cyprus & Egypt.

Style Holidays first year of operation was 1992 and since 1999 we have been a wholly owned subsidiary company within the Thomas Cook Group. We specialise in offering quality holidays to a small number of popular European destinations, as well as Florida. We like to think of ourselves as being a big enough company to get noticed, but one that is small enough to really care for our customers and our staff. In the numbers game we feature in the UK's top twenty tour operators, but Style Holidays is not a mass–market company.

The cornerstone of our success is an unrelenting, dyed–in–the–wool dedication to delivering our customers a holiday product of distinction and a level of personal service intended to make every single customer feel unique.

Our core product is a handpicked collection of private villas with swimming pools, mostly inclusive of car rental. Careful pricing means our product is within reasonable reach of most people who are not looking for a holiday based on budget alone, but who are discerning in their holiday requirements. Our villas are in locations ranging from walking distance to the beach, to secluded rural retreats. We also offer self–catering apartments and hotels of all sizes, from small and friendly pensions, to state–of–the art resort villages and five star country clubs.
SORRY, THIS BROCHURE IS NO LONGER AVAILABLE THROUGH THIS WEBSITE.
The Visual History of Winter Sun Collection Brochure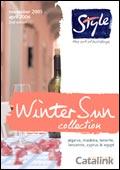 03 October, 2005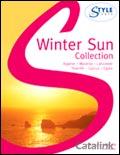 03 May, 2005