WINTER SUN HOLIDAYS FROM PANORAMA 06-07 BROCHURE
With nearly 50 years experience in the travel industry we are sure that you will share our enthusiasm for the great holidays we provide. We are committed to ensuring that you get the best quality holidays at the best prices. Our experienced resort staff will be your local experts on anything and everything. You can be sure that with Panorama you will get a great holiday and great value. Growing from modest beginnings, Panorama is now one of the UK and Ireland's largest and most popular tour operators. Ever since 1954, our sucess has been built on a passion for customer service both at home and abroad.

At Panorama Holidays we spend 52 weeks every year ensuring that your two weeks in the sun include some of the most memorable times of the year. So whether you like to holiday alone, with your partner, with your family or as a group, we offer the same thing; great holidays and a great price – guaranteed.
SORRY, THIS BROCHURE IS NO LONGER AVAILABLE THROUGH THIS WEBSITE.
The Visual History of Winter Sun Holidays from Panorama 06-07 Brochure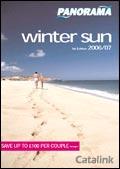 30 March, 2006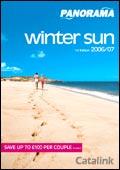 30 November, 2005