YOU GARDEN NEWSLETTER
Making Gardening Accessible to Everyone!
You Garden offer a range of great gardening supplies, advice and products. Sign up to their newsletter today to explore all they have to offer!
Explore everything you could need to make your garden (or balcony) a flower, fruit and vegetable haven. From beautiful flowers, climbing plants and ornamental shrubs to delicious fruit, organic vegetables and so much more.
The experts at You Garden believe that everyone can be a gardener - whether you have a garden, patio, small balcony or indoor garden. They make gardening super simple so that you can get on with planting and growing the most beautiful gardens with ease.
If you're looking to stock up on those gardening essentials, look no further. Explore compost, fertilisers, lawn care, pots, hanging baskets and so much more today!
Sign up to theYou Garden newsletter today and get 10% off your first order. Plus, be the first to receive member only updates, offers and advice on everything gardening!
SORRY, THIS NEWSLETTER IS NO LONGER AVAILABLE THROUGH THIS WEBSITE.
The Visual History of You Garden Newsletter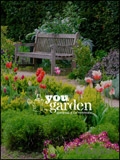 19 March, 2019