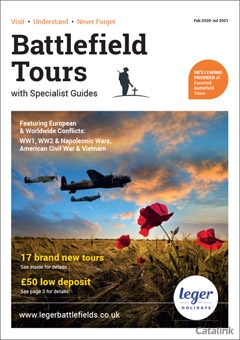 Battlefield Tours with Specialist Guides
Walk in the footsteps of heroes® and discover the battlefields throughout Europe and worldwide with Leger Battlefield Tours. With an impressive range of itineraries covering World War 1, World War 2 and other campaigns including the American Civil War and the Vietnam War, discover the full range of tours by requesting your brochure today.
Leger are the UK's Leading Battlefield Tour operator with an unrivalled reputation for both military history tours and their team of knowledgeable and enthusiastic Specialist Guides.
Embark on a journey of discovery visiting the battlefields, with hundreds of local joining points throughout the UK and a choice of travel options available, visiting the battlefields has never been so easy.
Leger Battlefield tours offer inspirational journeys of remembrance and discovery. Request the brochure today for more information.