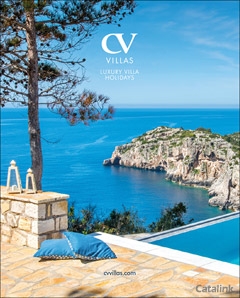 CV VILLAS - WORLDWIDE VILLA HOLIDAYS NEWSLETTER
To sign up to the CV Villas - Worldwide Villa Holidays Newsletter, simply click the Request Newsletter button below and you will receive amazing special offers, discounts and access to secret sales.
Request Newsletter
Luxury Villa Holidays!
CV Villascombine beautiful hand-picked villas in inspiring locations with flights, car hire and expert local advice to provide you with the holiday of a lifetime. Sign up for the CV Villas newsletter and let yourself be guided by the experts and ensure your peace of mind every step of the way.
With handpicked accommodation, CV Villas offer extraordinary holidays to unbelievably beautiful locations across the world:
Greece
Spain & The Balearics
Morocco
Italy
Croatia
France
The Caribbean
Turkey
Portugal
Cyprus
America
Whether you want a romantic getaway for two, or a family retreat in the heart of the action! Be pampered in their luxury villas, feel the sun and warm sands of beautiful beaches, or bring your dog along and go for rambles in the countryside. Whatever it may be, let CV Villas indulge you and make this holiday one to remember!
Their closely knit team are professional, approachable and friendly and are there to make your trip one you'll never want to forget. Their travel experts really are experts and can provide you with great tips, advice and knowledge on your destination.
Get lost in luxury and sign up for the CV Villas Newsletter today!