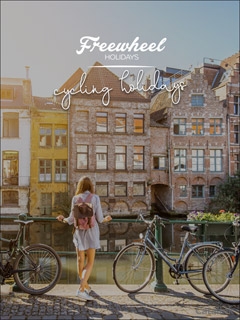 Tweet
Follow EUROPE CYCLING HOLIDAYS BY FREEWHEEL on Twitter
Freewheel Holidays
- 3 weeks ago
Freewheel Holidays brochure for 2022 is now live. Find your perfect trip on two wheels from more than 200 holidays https://t.co/fIWIN5feTp
Freewheel Holidays
- 2 months ago
Here is why
#Belgium
should be on your
#travel
list of places to go for a real cultural experience Aside from 🍺 B https://t.co/g7p6bQA6pH
Freewheel Holidays
- 2 months ago
🍷Celebrate Global Wine Day🍷 Whether it's a glass of red or white, wash it down in some of the most famous wine reg https://t.co/mkldtBBhWe
Freewheel Holidays
- 3 months ago
Only 1 week left to get £50pp off one of our signature Danube Trips in 2022. These amazing trips have been our most https://t.co/iUjQRvh9pH
Freewheel Holidays
- 4 months ago
Our Danube Tours are the most popular amognst our customers and for 2022 it will be no different. We are offering £ https://t.co/4Mz8J0Q5bi
EUROPE CYCLING HOLIDAYS BY FREEWHEEL BROCHURE
This newsletter is temporarily unavailable
Scenic European cycle holidays
Freewheel Holidays bring you holidays that combine a sense of adventure, a love of culture and a passion for cycling. Sign up to their newsletter today to explore their holidays and receive member only offers and updates direct to your inbox!

Their picturesque bike tours will transport you through some of Europe's rural treasures as you meander through luscious woodland and follow sparkling streams.

Beautiful routes are generously interspersed with cultural pit stops, local cuisine and authentic regional accommodation; so you always enjoy a rounded package.

With destinations across the whole of Europe, you'll be spoilt by beautiful culture and picturesque scenery. Whether you head to Germany, ride through Italy, travel through the Netherlands or explore Switzerland, you'll be sure to experience the best holidays around.

Sample rustic local cuisine, award-winning wines, charming villages, historic architecture and so much more!

Freewheel Holidays packages have everything you need to enjoy the perfect trip.

Plan your cycling holiday today and sign up to the Freewheel Holidays newsletter to get updates, offers and deals direct to your inbox!