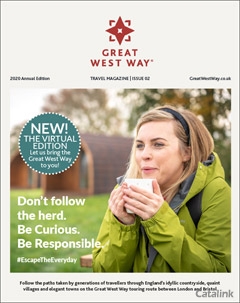 Tweet
Follow GREAT WEST WAY TRAVEL MAGAZINE on Twitter
Great West Way
- 8 hours ago
Spanning across 500 miles, it's without a doubt that the Great West Way is filled with unique bucket list experienc https://t.co/CsN8Cjor1F
Great West Way
- 12 hours ago
Explore some of the most stunning destinations by boat including Henley, Sonning and Streatley.
#GreatWestWay
https://t.co/Miz8mFNbfC
Great West Way
- 12 hours ago
Embark on a river cruise and discover the picture-perfect surroundings as you meander along the river Thames. https://t.co/jx7jbltEPe
Great West Way
- 1 day ago
As the earlier nights draw in, be sure to have an outdoorsy Great West Way escape to look forward to...🌲❄️ Read th https://t.co/Pkz5wpA7v8
Great West Way
- 2 days ago
How spectacular!
#GreatWestWay
https://t.co/vd3VwjBVYW
GREAT WEST WAY TRAVEL MAGAZINE
You can download the Great West Way Travel Magazine instantly by clicking the button below.
The Great West Way®
Discover ancient routes through idyllic countryside on the Great West Way®, the perfect place to be curious and explore the great outdoors by getting off the beaten track and away from the crowds. This touring route brings together many of England's famous destinations and attractions along a corridor between London and Bristol. Choose how to travel, journey by car, coach and rail, by boat, bicycle or on foot. Find out more by requesting a digital copy of their magazine now!
Visit UNESCO World Heritage Sites, stately homes and medieval castles and offbeat museums. Stay in scenic locations throughout your trip with accommodation at a whole range of different pubs, hotels, hostels and camping spots.
Hop on a train from London and explore using the Great Western Railway Great West Way Discoverer pass. Take an invigorating hike through the North Wessex Downs.. You never quite know what awaits the curious around the next corner. Discover your way. Great West Way® is your route to adventure!
Download a digital copy of the Great West Way® travel magazine to find all the inspiration you need for an unforgettable day out. We look forward to welcoming you to the Great West Way.