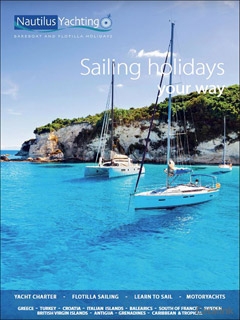 NAUTILUS SAILING HOLIDAYS BROCHURE
This newsletter is currently unavailable
Sailing holidays for couples, friends and families



Nautilus Yachting offer a great range of sailing holidays in all the best destinations worldwide. Their sailing holidays suit everyone – whether you're an experienced skipper or an eager novice – and great flexibility means your holiday is designed to suit you.
Why book with Nautilus Yachting...
Charter yachts, catamarans & motoryachts bareboat throughout the Mediterranean, Caribbean or other worldwide destinations.
Sail on flotilla in Greece, Turkey & Croatia.
Learn to sail on flotilla or on RYA courses in the sun.
Friendly, personal service with a wealth of helpful information and advice.
Competitive prices and unmissable special offers.
Nautilus Yachting has been organising sailing holidays worldwide since 1992 and is now one of the leading independent yacht charter agencies in the UK and one of the few that is bonded for your financial protection under ATOL 3016.

Sign up for the Nautilus Yachting newsletter now for bareboat and flotilla sailing holidays.