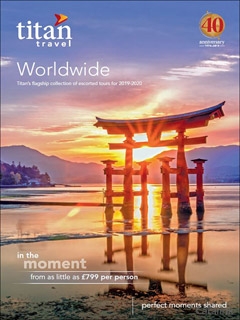 TITAN TRAVEL: WORLDWIDE BROCHURE
To order the Titan Travel: Worldwide Brochure, simply click the Request button below.
Request Brochure
Have you ever wanted to have the world at your fingertips? With Titan Worldwide's staggeringly comprehensive, diverse and in-depth range of enticing global destinations, the world has never before been so within reach.
Whether you're an experienced traveller or venturing forth from home for the first time, their meticulous itineraries and travel expertise will not only guide you through each journey with confidence and flexibility, but ensure that you find the ideal holiday you've always dreamt of - with a few exhilarating surprises along the way.
Their extensive collection of packages and destinations will literally lay the world at your feet. Featuring a huge range of themes, countries, locations and routes to explore, regardless of whether you have a penchant for adventurous backpacking holidays, indulgent cruises or cultural city breaks, their brochure caters for even the most discerning traveller.
Why not experience the captivating culture and exhilarating landscapes of South East and Central Asia? Choose between trips which focus on specific topics such as the majestic history of ancient China, the wild beauty of the Vietnamese countryside or the sprawling palaces and magnificent tigers of India.
If your passions lie in the great outdoors or the intrigue of the ancient world, Titan boast a selection of grand voyages which span entire countries and regions, plunging you into the magic and wonder of local heritage, culture and wildlife. Traverse the enigmatic jungle paths and striking ruins of Mexico's Mayan Trail and transport yourself to a time of ceremonial pyramids and imposing monuments.
Not only is their collection of holiday themes and destinations so diverse, but Titan remained committed to a philosophy of ensuring that each journey will always guarantee the highest level of ease, comfort and professionalism - so you can concentrate on having a spectacular time.
To explore the many far reaches of the seven continents, order your Titan Worldwide brochure now and you'll never look back.