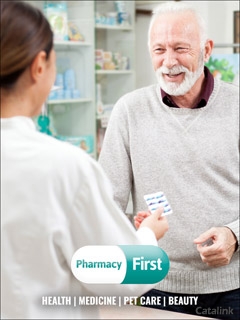 PHARMACY FIRST NEWSLETTER
To sign up to the Pharmacy First Newsletter, simply click the Request Newsletter button below and you will receive amazing special offers, discounts and access to secret sales.
Request Newsletter
Your One Stop Online Pharmacy & Prescription Medication Consultation Service
Pharmacy First provides all the convenience of your high street pharmacy, direct to your door. Sign up to their newsletter today to explore all they can offer you!
With everything from online prescriptions, mother and baby and beauty to pet care, pain relief and so much more. Sign up today to get your medicine cupboard stocked up.
The experts at Pharmacy First don't believe that a person's health should be compromised due to a hectic lifestyle, that's why they make healthcare work around your schedule!
Whatever you're looking for, you can find it here - explore feminine care, headache medication, cold and flu solutions, hay-fever tablets and so much more.
Sign up to the Pharmacy First newsletter to keep up to date on how to stay at your healthiest.