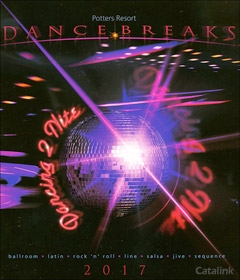 Whether you love the passion of the tango, the sensuousness of the salsa or the classic romance of the waltz, treat the performer inside you to a fabulous dance holiday at Potters Resort. Throw on your dancing shoes and choose from a dazzling collection of packages which features everything from lessons, tuition and performances to indulgent accommodation, gourmet cuisine and extravagant facilities.

Tired of dancing alone or in front of the mirror? Whether you need a few pointers, want to learn something new or simply want to bask in a vibrant atmosphere of exquisite dancing, Potters Resort offer weekend and day breaks to suit all levels of expertise and taste.

With specialisations in a glittering array of traditional and contemporary dance including Latin, Salsa, Line, Zumba, Ballroom and Modern Jive dancing, Potters Resort caters for all preferences – whatever your group, age or expertise.

Lose yourself in the passion and vigour of Latin dance with their expertly crafted midweek break. Featuring professional tuition and evening sessions, why not impress your friends or loved ones with dances which include the Cha Cha, Quick Step and Samba?

Potters Resort understand that a hobby as versatile and exhilarating as dancing doesn't have to be left to the professionals or more experienced. If you've always wanted to have a go or try out your natural abilities, treat yourself or a loved one and browse a range of beginner options where you can take part as much or as little as you like.

Whatever your reasons or level of expertise, try out your rhythm and flair and order your Potters Resort Dance brochure now.