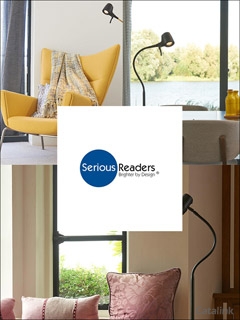 Tweet
Follow SERIOUS READERS READING LIGHTS on Twitter
Serious Readers
- 6 months ago
Lights supplied by Serious Brands, can be seen illuminating the instruments on the bridge of the "Agulhas II", the https://t.co/SE27GB6j7R
Serious Readers
- 6 months ago
Light therapy could lower risk of vision problems in premature babies. https://t.co/2apfeHYBIr https://t.co/ynTGdXByEi
Serious Readers
- 6 months ago
How lighting was used to debunk the Apollo 11 hoax theory. https://t.co/ecenpNeM4Y https://t.co/BYeqriKjpm
Serious Readers
- 6 months ago
The European Society of Retina Specialist's predict that 1 in 4 older adults will suffer from AMD by 2050. https://t.co/N8yezwhYlq
Serious Readers
- 6 months ago
Could gene editing lead the way in finding cures for blindness? Find out more on the Serious Blog. https://t.co/27j4xKzexo
Reading at your fingertips wherever you are


Welcome to the home of smart ideas for serious readers. You'll find purpose built reading lights that allow you to read for longer and in more comfort.

Their Easy Book Clips free up both your hands when cooking or working at your computer. Or why not treat yourself to a magnifier or some reading glasses.

Make sure you never again have to stop reading against your will. Serious Readers gives you the products you need to make your passion for reading more comfortable and flexible.

For a full range of solutions, ideas and aids order your Serious Readers catalogue now.