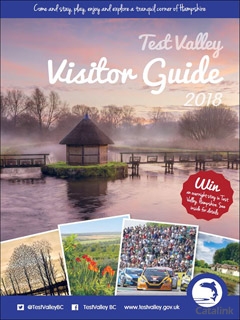 Tweet
Follow TEST VALLEY on Twitter
Test Valley BC
- 1 day ago
We've awarded £750 to Tony after he set up his own business, Quality Painting and Decorating! Wishing you all the https://t.co/1IDZnJJP3h
Test Valley BC
- 1 day ago
Whether it's by reducing, reusing or repairing Hampshire County Council want to fund local initiatives which suppor https://t.co/733p1u2YeE
Test Valley BC
- 3 days ago
Test Valley Borough Council has joined forces with Persimmon Homes to install a special wheelchair swing at Picket https://t.co/LcwZt9e9lq
Test Valley BC
- 3 days ago
RT
@10DowningStreet
: COVID UPDATE: Face coverings will become compulsory on public transport and in shops. Not including hospitality. https
Test Valley BC
- 4 days ago
If you are heading to St Mary's Church in Andover this afternoon between 3pm and 6pm to see the Hypercube and Pendu https://t.co/LK1uEsLLTl
TEST VALLEY BROCHURE
To order the Test Valley Brochure, simply click the Request button below.
Request Brochure
Explore a Tranquil Corner of Hampshire
Test Valley invites you to explore the beautiful countryside of north-west Hampshire, nestling between Winchester and the New Forest. Request the guide today for inspiration on your next visit!
Test Valley is home to quintessentially English villages, magnificent gardens and enthralling ancient history.
Treat the family to a day out at Paultons Theme Park for a great value day of rides and attractions where the kids can let off steam! The Museum of Army Flying at Middle Wallop, another gem in the area. Its two large hangers are home to the journey of British soldiers in the air and there's plenty of family-friendly touches to keep everyone happy! The Hawk Conservancy Trust at Weyhill and National Trust's Mottisfont House near Romsey are also fantastic attractions.
If you like to explore by bike then pedal your way around the stunning countryside and winding country roads, the area is perfect if you want to bring your dog along for the trip too!
Treat your loved one to a visit to the local vineyards, with over 250 acres devoted to growing grapes Test Valley is a hotspot for those who like to raise a glass and enjoy every kind of local produce.
Request the Test Valley Visitor Guide today for inspiration on your visit to this picturesque part of the UK!