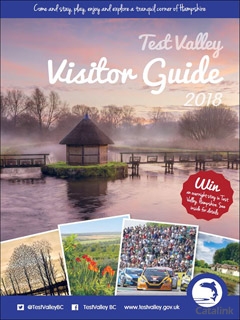 Tweet
Follow TEST VALLEY on Twitter
Test Valley BC
- 1 week ago
ICYMI: That time where one of our wheelie bins ended up in Ukraine. No, we don't know either.
#SlavaUkraini
https://t.co/cwrvZiD65C
Test Valley BC
- 2 weeks ago
We have a vacancy for a new Recycling Development Officer! The green agenda is high priority and with recent chang https://t.co/Qem0nCKGxd
Test Valley BC
- 2 weeks ago
These tiny footprints belong to a dormouse! 🐾🐭 Our countryside team have recorded these cute paw prints over at La https://t.co/fhEXRAelQB
Test Valley BC
- 3 weeks ago
How amazing is the winning entry for our Platinum Jubilee card competition?! 🎨👑 Pippa Lyons, 10, sent in this desi https://t.co/JR2FEN95Xi
Test Valley BC
- 1 month ago
Next month is pride month, and we'll be flying the flags on all TVBC buildings throughout! Andover's Guildhall wil https://t.co/sp2Eo0Xg2p
TEST VALLEY BROCHURE
To order the Test Valley Brochure, simply click the Request button below.
Request Brochure
Explore a Tranquil Corner of Hampshire
Test Valley invites you to explore the beautiful countryside of north-west Hampshire, nestling between Winchester and the New Forest. Request the guide today for inspiration on your next visit!
Test Valley is home to quintessentially English villages, magnificent gardens and enthralling ancient history.
Treat the family to a day out at Paultons Theme Park for a great value day of rides and attractions where the kids can let off steam! The Museum of Army Flying at Middle Wallop, another gem in the area. Its two large hangers are home to the journey of British soldiers in the air and there's plenty of family-friendly touches to keep everyone happy! The Hawk Conservancy Trust at Weyhill and National Trust's Mottisfont House near Romsey are also fantastic attractions.
If you like to explore by bike then pedal your way around the stunning countryside and winding country roads, the area is perfect if you want to bring your dog along for the trip too!
Treat your loved one to a visit to the local vineyards, with over 250 acres devoted to growing grapes Test Valley is a hotspot for those who like to raise a glass and enjoy every kind of local produce.
Request the Test Valley Visitor Guide today for inspiration on your visit to this picturesque part of the UK!