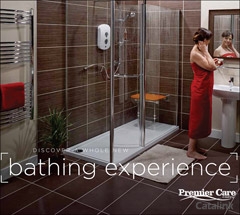 PREMIER CARE IN BATHING NEWSLETTER
To request a free no-obligation telephone consultation from the experts at Premier Care in Bathing, simply click the request button below and you will be contacted on your registered telephone number.
Request Newsletter
Shower safely in comfort & style
Premier Care in Bathing believes everyone should be able to bathe in comfort and safety.
Their incredible range is designed to help you feel safe and relaxed in your home. Discover everything from walk-in baths and easy access showers to mobility bathrooms and disabled wet rooms.
With stylish, modern designs you can find something to suit your home with Premier Care in Bathing.
We know how relaxing a bath can be after a long day, so why rediscover relaxation with a stylish and safe bathroom.
Choose showers designed for easy-access, baths that allow you get in with ease and seated areas when you need that much needed rest.
Find out what they can do for you today, request a call back from the experts at Premier Care in Bathing and find the perfect solution for you!