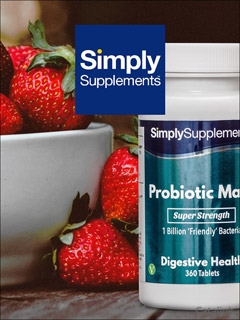 Tweet
Follow SIMPLY SUPPLEMENTS NEWSLETTER on Twitter
Simply Supplements
- 22 hours ago
Vitamin B Complex: A unique formulation of 8 B vitamins - Each one of these vitamins play specific important roles https://t.co/TL6kJ4MCGU
Simply Supplements
- 1 day ago
💥Our August Special Offers are now LIVE!💥 With over 30 products discounted... it's well worth checking out our webs https://t.co/vmeF6m2mIW
Simply Supplements
- 6 days ago
It's
#NationalWaterMelonDay
🍉 At 92% water, watermelon is an excellent and delicious way to help hydrate your body. https://t.co/17lCuLkgnE
Simply Supplements
- 1 week ago
The simply Supplements peach tree has also produced its first peaches this year! They were a little smaller than wh https://t.co/t33a4d8FTg
Simply Supplements
- 1 week ago
We've also had the first of our green beans and potatoes! 😍 You can't beat home grown green beans! Loaded with fol https://t.co/JtDMbkM5hH
SIMPLY SUPPLEMENTS CATALOGUE
Sign up to Simply Supplements Newsletter to receive exclusive offers and latest health news. Simply click the Request eNewsletter button below.
Request
PREMIUM QUALITY SUPPLEMENTS FOR EVERYDAY HEALTH & NUTRITION
Established over 14 years ago, Simply Supplements provide a range of premium nutritional supplements at great value for money. As one of the UK's leading vitamin suppliers, they sell over 200 popular products such as Glucosamine, Fish Oils, Multivitamins, Echinacea, and many more each year.
Simply Supplements offers expert nutritional advice in all aspects of health and nutrition.
WHAT TO EXPECT FROM SIMPLY SUPPLEMENTS?
Premium class supplements all manufactured in the UK to EU standards
Unbeatable prices plus pricematch promise
Free nutritional advice from their experts
Free delivery for UK online orders & reliable international delivery
Exclusive offers, competitions, and health news
View or download the Simply Supplements catalogue for great savings and latest expert advice on health & nutrition.